HN Series 80% minimum efficiency units
The HN series air handling unit can be individually designed and matched to each client's particular requirements. The systems are based around a high efficiency thermal wheel that provides both heat recovery and cooling as well as humidification and de-humidification if required. The units can be optionally equipped with the 'Airvolution' integrated control system that allows the engineer to access the internal settings via a hand-held terminal. This can also be connected to a SMS mobile or LAN communication network.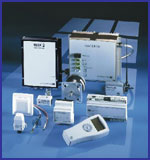 The unit design consists of a robust monobloc or polybloc pentapost framework of aluminium extrusions with die-cast corners. This system allows for total constructional flexibility and on site modular assembly where required
The external insulated panels are of a double skinned construction available in 25 or 50mm thickness. Mineral wool having a 60kg/m3 density providing both thermal insulation and sound attenuation is sandwiched between the sheet metal panels. Each panel is set flush into the framework, sealed with a waterproof gasket bonded to the unit casing, giving the outside of the unit a smooth, clean appearance.